Maui Departure Day Activities
Booking a red-eye flight out of Kahului Airport seems like a good idea, right? Anything for a few extra hours of sweet, sweet Maui time. But then it dawns on you: hotel check-out is at 11 am. What can you do to fill 12 hours without being exhausted, salty, and dirty by the time you get to the airport? This predicament is one of the most common Maui visitor woes. And luckily, we can point you in the right direction. Here are the best things to do on your Maui departure day.
Note: leaving your luggage unattended in your car for long periods is iffy. Smash-and-grab thefts are not uncommon. For peace of mind, we recommend storing your luggage at Bounce, a luggage storage facility in Kahului.
1. Go Shopping in Paia & Haiku
Paia is located about 10 minutes east of the airport. This vibrant small town is studded with local boutiques, art galleries, and restaurants. Start your visit at Paia Bay Coffee for some espresso and a bite to eat. This open-air cafe is right on Hana Highway, with public parking in the rear. Next, weave your way through Paia's eclectic storefronts: ukulele shops, boutiques, and off-beat gift shops. Or, head to Paia Bay Beach Park or Baldwin Beach to soak up some final sun rays. Both beaches have showers to freshen up, so you're not salty on the plane. Lastly, grab a table at Flatbread Pizza, known for its organic wood-fired pizzas.
Want to get into the local groove and explore somewhere a little more laid back? Head to Haiku, Paia's chilled-out neighbor. There's a ton to be discovered in this small town, but be sure to pencil in a stop at Ace of Cups.
This witchy storefront near Nuka offers tarot and oracle readings on select days (check out @ace.of.cups.maui on Instagram for the schedule) and carries an extensive selection of locally and internationally designed tarot and oracle decks. Deck collectors will delight in Ace of Cups' compendium of hard-to-find decks, and lovers of all things occult might find the perfect Haiku souvenir, whether it be a crystal, pendulum, or meditation mala.
2. Let the kids run amuck at Ultimate Air Trampoline Park
Ultimate Air Trampoline Park is as cool as it sounds. Located in Wailuku, Maui's only trampoline park features dozens of trampolines, basketball hoops, a foam pit, and much more. Parents can join in on the fun or kick back in one of the massage chairs. Walk-ins are welcome, but making a reservation online is recommended to guarantee your spot. If somehow the kiddos aren't pooped after a romp around the trampoline park, make the five-minute drive to Wailuku Heights Park. The kids can take over the playground while you enjoy the view.
3. Visit Iao Valley State Park and Wailuku Town
This scenic, stream-cut valley in the West Maui Mountains is central Maui's most popular attraction. This state park is known for its towering emerald walls, the famous Iao Needle landmark, and fascinating history— a fierce battle between Kamehameha's troops and Maui's army occurred here in 1790. Paved walking trails twist throughout the park, leading to Hawaiian gardens, epic lookouts, and a flowing stream. Spend a morning exploring the park's lush nooks and crannies before heading to Wailuku Town. Here, local eateries, coffee shops, chic bars, and shopping opportunities are abundant.
ʻIao Valley State Park will be closed from August 1st, 2022, until early 2023 for slope stabilization and parking lot improvements.
4. Stop by the Maui Ocean Center
Young or old, it's impossible not to be fascinated by the Maui Ocean Center. The three-acre facility features ocean exhibits showcasing Hawaii's diverse marine life. The aquarium is home to one of the largest living reef collections in the world and houses fascinating animals like stingrays and sharks. But there's more to discover at the Maui Ocean Center than what's under the sea— the aquarium also spotlights Hawaiian culture and history. However, the crown jewel of the Maui Ocean Center is the Humpbacks of Hawaii sphere. This planetarium-like theater features a short 3D film where guests come face-to-face with humpback whales. The movie was filmed over two whale seasons in Maui's waters.
5. Explore Upcountry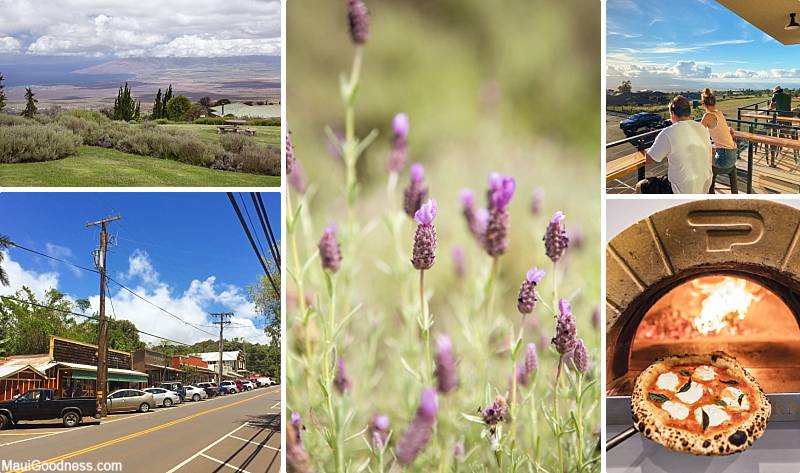 Upcountry's picturesque region is ideal for exploring before a late flight: the weather is cool, the views are fantastic, and it's only about a 30-40 minute drive to the airport. Kick off the day in Makawao Town for coffee, art, and Paniolo (Hawaiian cowboy) culture. This small country town is lined with chic boutiques, mom-and-pop cafes, and unique art galleries. After you've had your fill, head further uphill to Aliʻi Kula Lavender Farm. Here, lavender and other botanicals blanket nearly every inch of the 13-acre property. Sign up for a tour, or pop into the gift shop for some lavender treats and souvenirs. Before it's time to take off, sample some local craft brews from Mahalo Aleworks in Pukalani. You can also order classic Neapolitan-style pizza from the restaurant next door, Marlow.
6. Spend a day at the Maui Tropical Plantation
It's easy to kill the better part of a day at the Maui Tropical Plantation. This working farm and agricultural park is set on 500 fertile acres in Waikapu. Guests can explore the furthest reaches of the property and learn about Maui's bounty of tropical fruit on a 40-minute narrated tram tour. The property also features a kid-friendly, five-line zipline course for adventurous families. After working up an appetite, dine at Cafe O'lei at the Mill House, which boasts one of the best mountain views on the island. The Maui Tropical Plantation also features a coffee shop, ice cream parlor, farm stand, and several unique shops.
7. Soar in a helicopter tour
If you have to be at the airport anyway, why not fit in a helicopter tour? There are stunning places across the Valley Isle that are inaccessible. The best— and only— way to feast your eyes on these jaw-dropping vistas is via helicopter. Go for a west Maui and Molokai tour, which brings you face-to-face with towering waterfalls and some of the world's tallest sea cliffs. There's no better way to end your Maui vacation, and the aerial views are sure to make a long-lasting impression. Use your Maui departure day to see from above all that you accomplished while you were here.
8. Descend into the ocean depths on Atlantis Submarine
Lahaina's Atlantis Submarine affords visitors one last look at Maui's undersea life without getting sandy, sunburnt, and salty. This submarine descends over 100 feet to a shipwreck that doubles as an artificial reef. Here you'll spot a bounty of tropical fish, corals, and maybe even larger marine animals like sharks, turtles, and rays. A marine naturalist is also onboard to narrate the entire excursion. Better yet, the submarine is air-conditioned for a comfortable ride. The tour departs from Lahaina Harbor, so afterward, you'll be steps from the many shops and restaurants on Front Street. Lahaina is a great area to spend your Maui departure day.
9. Unwind with a spa day
Get totally blissed out before your flight home at one of Maui's many luxury spas. The creme de la creme of Maui spas is located at the Montage Kapalua Bay. The only drawback— the Montage is a tad bit far from the airport. But the facilities' luxe treatments, serene infinity pool, and eucalyptus-infused steam room are reason enough to overlook the hour drive. If you're not a guest of the Montage, you can book a treatment (which we highly recommend) or purchase a day pass to enjoy full use of the facilities. If you'd rather stay closer to the airport, the Grand Wailea and Four Seasons boast opulent spas— and they're less than 30 minutes from OGG.
10. Indulge your sweet tooth on a pineapple tour
Pineapple and Hawaii are nearly synonymous. Take a leisurely drive to the upcountry town of Haliimaile to explore Maui's last remaining pineapple plantation. The Maui Gold Pineapple Tour showcases the pineapple's journey, from seed to ready-to-eat fruit. First up is a visit to the Willy Wonka-like processing facility before heading into the rolling pineapple fields, where you'll sample a pineapple fresh off the plant. You'll also receive airport-ready pineapples to take home. After the tour, stop by the Haliimaile distillery next door to sample some of the finest Maui-made spirits. Or, head across the street for lunch at Haliimaile General Store, one of the island's best restaurants.
We hope you enjoy your visit to the Valley Isle and with this guide you can have the peace of mind that your Maui departure day will go smoothly.  Aloha!