Prepare to see the best sights across the globe!
If there's one unshakable fact about our planet, it's the stunning array of natural beauty it offers. From the knife-sharp ridges of Kauai's Na Pali Coast to the dense evergreens in the Pacific Northwest, there's no denying that we live in a world of positively hypnotizing wonder. To feel the land under our feet in places like Denali and Yellowstone is a gift of its own, but getting a bird's eye view of Earth's most dramatic and beguiling spots is a breathtaking experience that shouldn't be missed. Ready to see the globe from such great heights? Here are twenty-six (in no particular order) of the best helicopter tours in the world:
Zion National Park, Utah
Massive precipitous cliffs characterize this red-hued splendor in southwest Utah—a national park world-renowned for the depth, immensity, and uniqueness of its jaw-dropping canyon. Stretching fifteen miles long and half a mile deep, this chasm at the intersection of the Mojave Desert, the Great Basin, and the Colorado Plateau is famous for the sultry shades of its Navajo Sandstone. The Virgin River cuts through its captivating center, while coniferous forests, sagebrush, and prickly pear skirt the water's edge. Soar above its shimmering depths and you'll have a chance to see Horse Ranch Mountain (the highest peak in the park at 8,726 feet), the Three Patriarchs, and the Kolob Canyons in Mormon country—a series of vivid finger canyons sculpted into sandstone plateau.
Napali Coast, Kaua'i, Hawaii
Lush, vertiginous mountains, isolated beaches, and valleys deeper than one could possibly imagine: This is Kauai's enticing, emerald-toned Na Pali Coast. Spanning fifteen miles that's best accessed by sea or air, "The Cliffs" comprise some of the steepest and most arresting bluffs in the West. Helicopter tours often include views of "The Spires"—a series of steepled crags above Kalalau Valley—and the cascading waterfalls of Hanakoa. From the sea to the center, many scenic flights glide above Waimea Canyon State Park in the west, a 3,000-foot deep chasm noted for its luminous red and green hues. Known as the Grand Canyon of the Pacific, buzzing around its crevasses is a startling reminder of our planet's spellbinding divineness.
Whistler, Canada
Consider it a skier's powdery paradise: This British Columbia beauty in the southern Pacific Ranges—a sequence of peaks that extends from the Yukon through the coast of Canada—boasts 8,000 acres over two mountains (the eponymous summit and Blackcomb) and is known around the world for its prominence as the largest skiable region in North America. Host of the 2010 Winter Olympics, this resort town is home to a charming chalet village and a tremendous expanse of epic wilderness, including dense coniferous forests filled with wildflowers and western red cedar, glacial waterfalls, and Arctic tundra. Buzz above this immaculate beauty and your breath will be taken away in more ways than one.
Victoria Falls, Africa
Plummeting nearly 350 feet and spanning 5,600, Victoria Falls presents the largest sheet of falling water in the world. Known as "the Smoke that Thunders," this theatrical display of Mother Nature's power is located at the intersection between Zambia and Zimbabwe in southern Africa. Lined by sandstone banks and possessing tree-studded islands, water from the Zambezi River spills in a spectacular vertical drop. With two national parks comprised of woodland savannah, the outer acreage of Victoria Falls provides riveted riders with views of wildlife down below, from zebras and cheetahs to leopards and antelopes. Glide above the falls' booming spray—which, during flood season, extends up to 1,300 feet into the sky—and understand just what staggering actually means.
Sydney, Australia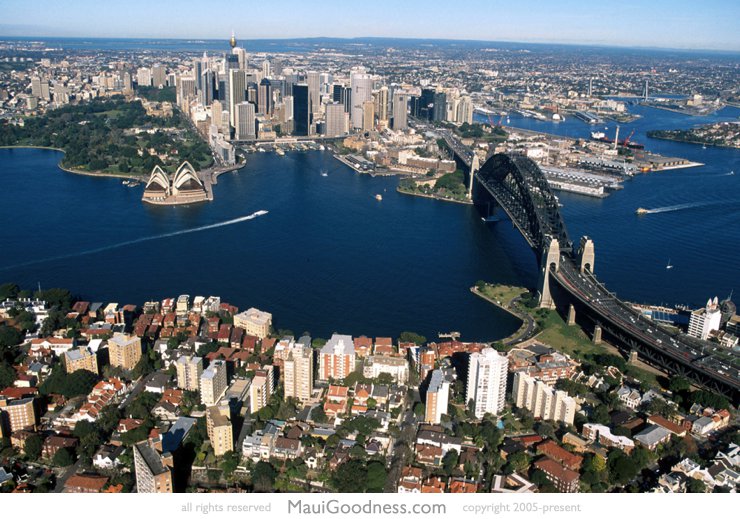 The capital of New South Wales and the biggest city in Australia, Sydney is a veritable Down Under wonder, possessing the largest harbor in the world and possibly the most spectacular—and identifiable—opera house on Earth. As if that weren't enough, this city of five million and coastal basin on the Tasman Sea is bordered by the Blue Mountains to the west—a string of sandstone ridges carved by deep gorges and topped by eucalyptus forests—and blessed with more than a handful of sun-soaked beaches. Hovering above this pulsating city gives you a bird's eye view of the Hawkesbury River, the Sydney Harbour Bridge, and the oh-so-impressive Olympic Park, which was home to the 2000 Olympics.
San Francisco, California
Arguably the Golden State's most seductive city, San Francisco's cultural eminence is rivaled only by its own natural—and absolutely entrancing—beauty. From the fog-kissed cables of the Golden Gate Bridge to the dense, dark forest of Golden Gate Park, this is a cityscape of incredible dimension, complexity, and sparkle. Glide above Alcatraz in the Bay, nip towards the world-acclaimed Embarcadero, and gaze towards the saw-toothed skyline of the Financial District downtown. Baseball fans, take note: Some tours include aerial views of the Giants' famed waterfront park.
Rio de Janeiro, Brazil
From granite monoliths to Copacabana, from one of the world's largest football stadiums to the serrated range of Serra do Mar, Rio de Janeiro is a kingdom unto itself. To soar about this World Heritage Site is to see a timeworn-meets-contemporary, nature-meets-manufactured sensibility, where high rises are flanked by the Tijuca Forest and Christ the Redeemer—one of the most iconic and evocative statues in the world—reigns above it all.
Niagara Falls, New York
Spanning Eastern Canada and the state of New York, Niagara Falls stands as one of the most remarkable and recognizable landmarks in the world. Comprised of three exceptional falls—Horseshoe Falls, American Falls, and Bridal Veil Falls—Niagara Falls generates the highest flow rate of any waterfall on Earth, pumping as much as 225,000 cubic feet of water down its banks per second. To hover above this sensational sight is to temporarily exist on another plane entirely. Curious about the vivid green shade of its cascading water? It's a byproduct of minerals that's created by the erosion of the Niagara River, which once served as a fundamental route towards liberation in the years preceding the Civil War.
New York City, New York
I Heart New York takes on a whole new meaning after you've danced through its world-famous architecture in a helicopter. From the Statue of Liberty to the Brooklyn Bridge to the vast and vibrant expanse of Central Park, this cosmopolitan city has an incredible collection of must-see, completely memorable attractions. Think of the thrills you find on its lively, much-pounded pavement—and then times it by three.
Moloka'i, Hawaii
Hawaii's friendliest island is also one of its most lush and unspoiled: At 260 square miles—with the eastern half a fertile garden of forests averaging 300 inches of rain per year—it's home to less than 8,000 people and only a few minutes flight from Maui, Hawaii. And yet it's also home to some of the most stunning scenery in the Pacific, from the peak of Kamakou to miles of secluded beaches. Maui to Molokai helicopter tours are a choice way to relish its majesty, where some of the island's most mystifying areas are accessible only by air—including its hair-raising sea cliffs and dramatic waterfalls.
Juneau, Alaska
Meet a Wild far different from Cheryl Strayed's: The capital of the 49th state is the remotest government seat in the United States, set in the Alaskan panhandle in the gun-metal Gastineau Channel. So isolated is this city of 32,000 that it's accessible only by ferry or air—due entirely to the harsh and often unforgiving terrain that surrounds it. Viewed from the lofty level of a helicopter and your senses will expand right along with Alaska's rugged vastness, where the 3,255 square foot city is fringed by enormous ice masses, the formidable Mount Juneau, towering forestry, and the epic Juneau Icefield.
Hong Kong, Republic of China
Over 7 million people call this extravagant Southern China metropolis home. To give you a little perspective, that's almost ten times the population of Alaska—and all of it is within 31 square miles. See it from a completely fresh perspective by touring it from above, where the "Fragrant Harbor" and former British Colony borders ferry-filled glistening waters while close to 1,300 skyscrapers—including the 118-storey International Commerce Centre—skim the clouds. The outlying islands and mountains framing this densely populated shore provide a compelling sense of dichotomy—reminding viewers of the glory of nature and the power of the pioneering human mind.
Great Barrier Reef, Australia
It's the largest coral reef on the planet, consisting of over 3,000 individual reef systems and 900 islands. It's the only living thing on Earth that's visible from outer space. It's the largest organic structure in the world. Yes, it's the Great Barrier Reef of Australia, one of the Seven Wonders of the Natural World and one of the most breathtaking places to behold. Seen from the sky and its tremendous size becomes realized, while its bone-white beaches and aquamarine waters prompt us to recall just how much of our planet is made up of the sea. Cross your fingers: Rays, sharks, and turtles are occasionally seen from the eagle eye's perspective on board.
The Grand Canyon
Part of the allure of scenic flights is to get a true sense of scale—and nowhere is this more true than when you take a chopper above the Grand Canyon. Two billion years of geological history unspools before your eyes as the canyon gapes below—all 277 by 18 heart-stopping miles of it. Press your face to the glass and keep your eyes peeled for The Painted Desert—a petrified forest in the Canyon's Four Corners that holds hues ranging from ruby-red to lavender.
Fox Glacier, New Zealand
Alpine mountains aren't the first thing that comes to mind when imagining this Down Under island nation, but this rustic Pacific jewel is home to a series of provocative jagged peaks. Fox Glacier—named after the long-deceased Prime Minster of New Zealand—is an eight-mile glacier on the southern side of South Island and one of the few glaciers in the world to edge against a verdant rainforest. Peer down upon this quilt of snow while veering near Mt. Cook and you'll feel as if you're in another world entirely.
Fiji
Honeymooners swoon over this remote South Pacific haven, where 332 islands make up the republic's iconic archipelago. Dense tropical forests edge into crystalline waters, while notched peaks stretching up to 4,000 feet carve into the sky. Viewed from afar and you can't help but appreciate the loveliness of its pristine, sugary beaches and widespread coral reefs. Aim for an aerial tour during the rainy season and revel in the spectacle of surging waterfalls.
Chicago, Illinois
Escape the crowds—as in 2.7 million residents—and view this magnificent Midwestern metropolis from the wispy clouds above. From its celebrated skyline on the shores of Lake Michigan to its fabulous Northerly Island, the Windy City's marvelous architecture, exceptional Millennium Park, and revered piers is like a visual lesson in vital US history. Lagoons, harbors, parks, and world-renowned buildings—including the John Hancock Center—make up this sleek Illinois landmark, guaranteeing that you'll disembark with an enhanced appreciation for the first city to coin the term "jazz."
Cape Town, South Africa
With one of the most enthralling harbors on the globe, South Africa's third largest city is flanked by thoroughly fascinating geography, from flat-topped summits to an accordion of peaks that give way to expansive, golden-sand beaches. The World Design Capital of 2014 and enormous port city is a mecca of mesmerizing sights. Hovering above its heavens, one can witness its awesome diversity and tremendous natural beauty, including the Twelve Apostles Mountain Range, the Indian and Atlantic Oceans, the remarkable Table Mountain, the notorious Robben Island, and the city's expansive urban sprawl.
Circle of Fire, Big Island, Hawaii
There's viewing the poignant beauty of an ancient, timeworn landscape, and then there's seeing a portion of the world being shaped right before your eyes. Experience the latter from the skies above aboard a tour of Kilauea—an active shield volcano on the southern edge of Hawaii's Big Island. With trips that glide over fields of barren lava and smoke-hazed craters—not to mention tropical rainforests and pockets of the Pacific—you'll feel like a part of history in the making.
Banff National Park, Canada
Located in the northern sprawl of the massive Rocky Mountains, Alberta's crown jewel is the oldest national park in Canada and the third oldest in North America. Spanning nearly 2,600 miles, this is some seriously dazzling—and diverse—terrain, comprised of seemingly-impenetrable forests, ice fields, glaciers, and cathedral mountains perpetually capped with bright-white snow. The former coal mining hub and World War I internment camp is also home to Moraine Lake—a brilliant blue-green beauty that's glacially-sustained and situated in the Valley of Ten Peaks. What better way to comprehend its immenseness than from the clouds above? Bonus tip: Keep your eyes peeled for wildlife, including elks, wolves, and white-tailed deer.
Amalfi Coast, Italy

George Clooney might have become the face of the Amalfi Coast in the last few years, but there are far more reasons to visit the southern edge of Europe's most famous boot than a chance star spotting. The real celebrity here is the shoreline's sexy beauty, where coastal mountains slice into the eternally-blue Mediterranean Sea and villages perch on the cliffs as if painted. Seen from above and you'll discover just how serpentine this romantic gem truly is, while forested valleys and unique rock formations evoke the sort of awe that stays with you for a lifetime. With notable points of interest in the vicinity—from Positano to the island of Capri—heli-tours of Italy's glamourous coast will have you saying "wow" more times than you can count.
Thorisjokull Glacier, Iceland
Surreal is the first word that comes to mind when thinking of the misty, alienesque landscape that is Iceland. This remote Nordic Island nation straddles the North Atlantic and Arctic Oceans and boasts some of the eeriest and most splendid pieces of scenery on Earth—from dramatic glacial rivers to the oldest known geyser in the world. Its second largest glacier, Thorisjokull, is best seen from up above, where viewers can garner an impressive perspective of its sensational ice crevasses, volcanic craters, and seemingly endless sky. Claim to fame: This striking sight is a Tuya volcano dating back to the Ice Age, and is rumored to have been named after a mythical troll.
Okavango Delta, Botswana
Ask a group of people what they'd most like to experience before they die, and chances are nearly half will say a safari. Pounding the ground in close proximity to the wild game of Africa is nothing short of exhilarating, but taking to the skies above the Okavango Delta in Botswana is its own kind of extraordinary. Cheetahs, lions, giraffes, elephants, and rhinos flock the vast grassland, which was named one of the Seven Natural Wonders of Africa. And for good reason: This oasis possesses the great Okavango River (which feeds into the Kalahari Desert) and over 200,000 seasonal animals.
The Fjords, Norway
With water so pure and glassy it reflects the clouds in the sky, and precipitous cliffs a deep, stunning green, it's no wonder that the fjords of Norway are often associated with the Garden of Eden. From the vantage point of a helicopter, you can delight in views of snow-capped mountains, glacial waterfalls, and acres of unspoiled farmland. Soaring above it all is a captivating experience you'll savor long after you've departed Scandinavia's shores.
Mount Everest, Nepal

Mount Everest is synonymous with majestic for a reason: At 29,000 feet tall, the "Rooftop of the World" is the highest point on Earth, stretching so far into the azure sky it appears to be infinite. Hovering in the Himalayas, you can see the startling reach of every die-hard mountain climber's ultimate dream, as well as an exquisite panorama of alpine lakes, rivers, and gorges. While helicopter tours are spendy, flyers are often left so astonished by the grandeur they claim it's worth every penny.
Dubai, United Arab Emirates
Ascending from the desert floor like a glossy mirage, the city of Dubai on the Persian Gulf is hands-down one of the most compelling metropolises on Earth. Seen from the ground and it's absolutely reeling in architecture and size; seen from the sky and it's nothing short of outstanding. With the Hajar Mountains, Palm Jumeirah (an artificial archipelago), temples, mosques, and Burj Khalifa—the tallest skyscraper in the world—Dubai is a place where modern aspirations meet ancient sensibilities, resulting in a city that's utterly captivating. Buzz above it and get a sense for why this hub is considered one of the top global hotspots on Earth.
All photography was either taken by Hawaii Web Group staff, from owners that have given us written permission, and/or purchased for use. We have all the rights necessary to use these images on our website, and we require those interested in using our images to contact us for permission first.