Fun Things to do in Maui
There's so much to do on the island of Maui, but most visitors don't know where to start. We've decided to list fun things to do in Maui to give our viewers locally preferred options.
1. The Road to Hana
Without a doubt, driving along the Road to Hana is one of the best things to do in Maui. With endless waterfalls, hiking trails, ocean cliffs, and gorgeous scenery, this is a road trip you'll never forget. Really, the best way to experience all that Hana has to offer is by staying in Hana for a few days. If this isn't an option, the day trip is still wonderful.
We recommend those that get car sick to not drive all the way to Hana Town. The Road to Hana is about the gorgeous views and waterfalls along the way (check out Twin Falls). Drive till you feel 1/2 content, and turn around. Driving the entire road there and back will take over 5 hours without stopping. Make sure to get a comfortable rental car. Or if you want to truly relax and enjoy the trip to the fullest, take advantage of knowledgeable guides and spacious, air-conditioned vans with a Road To Hana Tour.
2. Rent a Classic Car or Harley
Anyone can cruise the island in a new convertible Mustang, but some choose to relive their pasts with classic cars. On Maui, you can rent all kinds of exotic cars as well as Harley Motorcycles. With all the great drives in Maui, it's nice to ride in style. Maui Roadsters offers an assortment of beautiful 1957 Porsche 356 Speedster reproductions for full-day (12 hours) or half-day (6 hours) rentals, perfect for cruising to scenic spots like Hana, Nakalele Blowhole, Upcountry, and along Maui's North Shore!
3. Snorkeling
One of the cheapest Maui activities is snorkeling. Renting a set of snorkel gear only costs a few dollars – we recommend the Deluxe Snorkel Rental with Boss Frog's – and the snorkeling just offshore is great. You can look at a Maui snorkel Map, or decide on a boat trip to Molokini Crater. Depending on the conditions, one or the other will provide some great snorkeling with plenty of marine life. We especially recommend snorkeling Molokini Crater because it has protected waters and plenty of sea life. You can also take a trip snorkeling on Malolo Charters to see sea turtles along the coast at spots you wouldn't normally get to by foot.
4. Hike Haleakala Crater
For a truly memorable land activity on Maui, head out for an epic day of volcano hiking with the folks at Hike Maui. Their 7-hour, 4-mile guided hike through the otherworldly landscape of Haleakala Crater, an area larger than that of Manhattan, includes snacks, lunch, and plenty of breathtaking views you'll remember for a lifetime. Guests must be at least 8 years of age. Perfect for adventurous families, couples, and solo travelers!
Visit Hike Maui or call (808) 879-5270 for more information.
5. Maui Luau Feast and Show
With many luaus on the island, you can pick the perfect experience for you and your guests, from intimate settings by the ocean to larger productions at resorts throughout the island. All Maui Luaus come with a show of hula dancing, history, and usually at least one fire dancer. This is a great way to experience some of Hawaii's most interesting culture, watch the sunset and spend a memorable night under the stars with family and friends.
6. Take a Glassblowing Class
Located in a private studio owned by Master Glassblower Ryan Staub, Moana Glass offers Maui visitors the opportunity to create their own island-inspired souvenir during a private glassblowing class. Lessons are taught by Maui's leading local glassblowers, and you can choose from an assortment of stunning designs, from hearts and bowls to fish, cups and more. This hands-on experience is an excellent way to channel your inner creativity and learn a new skill in paradise, and classes include all safety equipment and step-by-step instruction. Return home with your very own glass-blown creation, and take a free tour of the Moana Glass studio to appreciate the intricacy of this fun artistic practice. Call (808) 763-6338 to reserve your spot.
7. Maui Zipline
With locations on the slopes of Haleakala, Kaanapali's West Maui Mountains and over/through the Maui Tropical Plantation, ziplining is a fun way to experience the diverse landscapes and views of Maui.
8. Go Restaurant Hopping
Restaurant hopping is one of the best ways to taste test the best ono grinds on Maui! Some of our favorites include:
Preserve at Travaasa Hana – Headed to Hana? Stop at the beautiful Travaasa Hana for excellent Hana Fusion dishes.
Learn more at Maui Dining for recommendations on everything from food trucks to fine dining restaurants.
9. Take a Photo Hike
Maui has no shortage of photo-worthy locations and landscapes, which are worth exploring beyond the lens. Iao Valley, with its picturesque streams, lush greenery, and the iconic Iao Needle, offers world-class photo opportunities for those with the right equipment. The guided Central Maui, Upcountry & Haleakala Tour is the ideal way to tour and learn more about this stunning area, as well as nearby hotspots like the Kepaniwai Gardens and Maui's favorite historic local towns. Even better – the tour includes round trip transportation, breakfast, and a scenic Upcountry picnic. 
10. Solve a Mystery
A riveting and highly entertaining activity for the whole family, head to Wailuku Town to experience Maui's new escape room thrill at Mystery Maui. Gather your savviest friends and family members for this clue-filled, unique live experience that will challenge you to solve one of two mysteries in 60 minutes or less in order to escape the room. This exciting activity is ideal for groups of 2 to 6 people, and leaves plenty of time to enjoy the rest of your day on Maui. Reserve your mystery experience online or by calling (808) 249-2062.
11. Ocean Rafting
An affordable and exciting way to get out on the water is on Molokini snorkeling tours. These tours will take you out snorkeling as well as whale watching in season. One of our editors has been close enough to a humpback while rafting that he could touch its back.
12. Paint With Friends
When was the last time you painted a masterpiece in paradise? While others are scrolling their pay-per-view at the hotel, you could be sipping a glass of wine and painting a sunset or a sea turtle! With the guidance of their Partista (Party Artist), your level of expertise won't matter. You'll take home a work of art and a few priceless memories.
For more information, please visit Island Art Party or call (808) 419-6020.
13.
Jump Up, Jump Up & Get Down
If you're seeking a family-friendly activity that will have your heart pumping in no time, the Wailuku-based Ultimate Air Trampoline Park is where it's at. With tons of trampoline jumping areas, a foam ball pit, basketball hoops, there are plenty of ways to keep the keiki – and yourself – entertained at this 25,000 square foot indoor activity center. Reserve your trampoline pass by the hour or get a full day unlimited pass for $25 (as of 11/15/18). All jumpers can grab a pair of Ultimate Air socks onsite, and head off for a day of fun out of the sun. Guests of all ages are welcome to join and are encouraged to book their spot online or by calling (808) 214-JUMP.
14. Go House Shopping
Thinking of buying property in paradise? Imagine waking up to this view! For the best local resource in real estate, contact one of the best Maui realtors by the region they specialize in.
SOUTH/WEST?CENTRAL/NORTH/UPCOUNTRY MAUI: Maui Real Estate Team
15. Bottom Fishing
Maui Bottom fishing can be done on any of the dozens of charter boats out of Maalaea Harbor or Lahaina Harbor. Maui's ocean has some beautiful warm water fish.
16. Get Married
Maui is one of the easiest places in the Nation to get hitched. Our island has more weddings on it than anywhere else for good reason. Maui's beaches are perfect for small weddings.  It's pretty much always a good idea to get a wedding planner for a Maui wedding. Most people have small weddings on Maui in order to relieve stress and make life easier.  Having a planner makes it far less difficult to lock every detail down.
17. Find Your Optimum Health and Wellness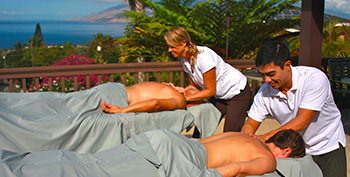 From Wailea and Kihei to Lahaina and Kapalua and everywhere in between, Maui's Best Massage comes to you!  You won't have to lift a finger or leave your room to get a 5-star massage from these expert therapists!  Pick from relaxation, deep tissue, or Lomi Lomi and the aloha spirit will be yours for the taking in no time.  They also have a new studio in Wailea at 161 Wailea Ike Place, suite A105-2.
If you are in Hana after that windy drive, you'll be in heaven at the Spa at Travaasa Hana.  From head to toe, they have treatments for everything you'd want!  They offer facials, waxing, body treatments and make sure to indulge in their state-of-the-art steam room.  Finish off with a dip in their lava rock whirlpool, and you'll be in heaven!
18. Bike Down the Volcano
Riding from the top of Haleakala down to the base of the volcano is incredible. You'll enjoy overwhelming views of all of Maui as well as the many sweet fragrances of the countryside while cruising downhill on a bike. Maui bike tours have become one of the most popular activities on the Island.
19. Rainforest Rappelling
For the more adventurous and active travelers, we highly recommend a full day rappelling tour with Rappel Maui, who specialize in jungle and waterfall rappelling deep in the remote areas of East Maui. Travel along the Road to Hana for a day of hiking, rappelling and swimming in freshwater pools, all with the help of experienced canyoneering guides. Participants must be at least 10 years old, but beginners to advanced levels will enjoy the thrill and scenery! Call 808.445.6407 for more information.
20. Go Sailing
Maui Sailing is an easy and fun thing to do with the many large vessels on the island. Popular boats like Four Winds Maui and Trilogy Excursions will take you snorkeling, whale watching, or for a romantic sunset cocktail cruise.  Or go on a private charter on Shadowfax.
21. Take a Flying Lesson
Take a thrilling, hands-on flying lesson with Fly Maui. Here you will learn how to take off a Cessna, followed by a scenic flight around the island. Explore untrodden rainforests, peer into chasmic valleys, and uncover hidden waterfalls that pour into the sea. The stunning views from the pilot's seat are admittedly a little distracting but don't worry, a qualified Fly Maui instructor will be at your side at all times to take over if you'd like to snap a photo or two, or twenty… Call Fly Maui at (808) 280-3290.
22. Try Snuba Diving
For those of you that are hesitant to scuba dive, or don't have the time to get certified, snuba is an excellent option. Within 20 minutes, you can be in the water at a depth of 15-30 feet for up to an hour. Many boat tours offer snuba as well as one shore diving company.
23. Aerial Photography
Helicopter flights are on almost every Maui traveler's bucket list. With Go Fly Maui, take your helicopter experience to the next level. Go Fly Maui offers two unique, equally thrilling experiences: the opportunity to learn how to fly a helicopter and a custom photography adventure flight around the island in a doors-off chopper. Both ventures do not require any previous experience, just be prepared for lots of fun and excitement. Call Go Fly Maui at (808) 633-5356.
24. Try some Maui Grown Coffee
Though most of the glory is stolen by the Big Island's Kona coffee, the Valley Isle grows delicious coffee as well. Our Maui coffee farms are small and offer very personal and unique flavors.  Get some for your trip and take some home!
25. Yoga
Great Hawaiian healers are world-renowned for their massage and yoga techniques. If you enjoy the serenity of meditation and yoga, take a class, or find a quiet place on a sea cliff to experience what these spiritual people know so well. Maui has a wonderful array of teachers and studios. The Travaasa Hana has small yoga classes and guided meditation.
26. Visit Lanai
On your next journey to paradise, why not get off the beaten path and head to Maui's lesser-known neighbor island of Lanai for an unforgettable snorkeling and boat experience. Depart from Lahaina Harbor on a spacious double-decker catamaran for a cruise across the 'Au'au channel – keeping an eye out for Hawaiian Spinner Dolphins, humpback whales, Hawaiian Green Sea Turtles along the way – before arriving at the first of two scenic snorkeling areas. Enjoy the natural beauty of The Pineapple Isle on this half day tour, which includes a full buffet lunch, water slide, snorkel equipment, guided instruction, and more.
Visit Hawaii Ocean Project or call (808) 667-6165 for more information.
27. Whale Watching
By far one of the best Maui activities to do is whale watching. This is only possible during the winter months due to humpback migration patterns. You can watch them from shore, but the best way is to take a Maui whale watch cruise and see them up-close.
28. Maui Film Festival
The Maui Film Festival is known for its stunning venues, including the Maui Arts and Cultural Center, the Seaside Cinema at Wailea Beach, and it's cardinal event, the Celestial Cinema at the Wailea Golf Club. The Celestial Cinema features several shorts, award ceremonies, and a double-feature each night of the festival. The best part- the Celestial Cinema is powered completely by solar energy! On top of that, the Maui Film Festival is Hawaii's only outdoor cinema, so festival-goers are invited to gather under the stars and enjoy the best original films of the year!
29. Swim Like a Mermaid
To this day, one of the most fun and memorable adventures we've done was a recent swimming lesson with Hawaii Mermaid adventures. 2 hours of swimming with a mermaid tail in the beautiful waters around south Maui, along with an instructor and lifeguard, made for a ton of fun!  Then there's the added bonus of them including photography with the lesson.  Serious mer-bragging rights.
30. Maui Craft Tours
While Maui already has several exciting land activities to choose from, Maui Craft Tours has created a range of brilliant tours across The Valley Isle, thoughtfully combining their affection for delicious, island-inspired foods with their love for Maui's quality craft spirits, beer, wine and freshly roasted coffee. Choose from the Upcountry Tour, Taste of Maui, Ultimate Craft Tour, Field To Glass Tour or even a Private Tour and visit some of the best local tastemakers in gorgeous locations throughout the island. From behind-the-scenes tours and tastings at MauiWine, Maui Brewing Co., and Hawaii Sea Spirits to snacks and farm-to-table cuisine from Surfing Goat Dairy and the acclaimed Mill House at Maui Tropical Plantation, guests will be guided on a deliciously memorable experience of Maui's most innovative tastemakers.