Fun Things to do in Maui
There's so much to do on the island of Maui, but most visitors don't know where to start. We've decided to list fun things to do in Maui to give our viewers locally preferred options.
1. The Road to Hana
Without a doubt, driving along the Road to Hana is one of the best things to do in Maui. With endless waterfalls, hiking trails, ocean cliffs, and gorgeous scenery, this is a road trip you'll never forget. Really, the best way to experience all that Hana has to offer is by staying in Hana for a few days. If this isn't an option, the day trip is still wonderful.
We recommend that those who get car sick not drive all the way to Hana Town. The Road to Hana is about the gorgeous views and waterfalls along the way (check out Twin Falls). Drive till you feel 1/2 content, and turn around. Driving the entire road there and back will take over 5 hours without stopping. Make sure to get a comfortable rental car. Or, if you want to truly relax and enjoy the trip to the fullest, take advantage of knowledgeable guides and spacious, air-conditioned vans with a Road To Hana Tour.
Halfway to Hana Tour
Here's one of the biggest Road to Hana secrets: you can still have an unbelievable Road To Hana experience without driving the entire road. Case in point, Humble Tours' Halfway to Hana + Garden of Eden Tour. Dig into scrumptious banana bread at Aunty Sandy's, explore the rugged and wild Keʻanae peninsula, and get a private tour of the Garden of Eden, where views of spilling waterfalls and untouched coastline abound. What more could you ask for?
2. Rent a Classic Car or Harley
Anyone can cruise the island in a new convertible Mustang, but some choose to relive their pasts with classic cars. On Maui, you can rent all kinds of exotic cars as well as Harley Motorcycles. With all the great drives in Maui, it's nice to ride in style. Maui Roadsters offers an assortment of beautiful 1957 Porsche 356 Speedster reproductions for full-day (12 hours) or half-day (6 hours) rentals, perfect for cruising to scenic spots like Hana, Nakalele Blowhole, Upcountry, and along Maui's North Shore!
3. Snorkeling
One of the cheapest Maui activities is snorkeling. Renting a set of snorkel gear only costs a few dollars – we recommend the Deluxe Snorkel Rental with Boss Frog's – and the snorkeling just offshore is great. You can look at a Maui snorkel Map, or decide on a boat trip to Molokini Crater. Depending on the conditions, one or the other will provide some great snorkeling with plenty of marine life. We especially recommend snorkeling Molokini Crater because it has protected waters and plenty of sea life. You can also take a trip snorkeling on Quicksilver Maui to see sea turtles along the coast at spots you wouldn't normally get to by foot. For those of you looking for a truly unique snorkel adventure, visit the island of Lanai with Hawaii Ocean Rafting's Lanai Dolphin and Snorkel tour. And for those of you wanting a more intimate cultural experience, check out Maui Sailing canoe.
4. Hike Haleakala Crater
For a truly memorable land activity on Maui, head out for an epic day of volcano hiking with the folks at Hike Maui. Their 7-hour, 4-mile guided hike through the otherworldly landscape of Haleakala Crater, an area larger than that of Manhattan, includes snacks, lunch, and plenty of breathtaking views you'll remember for a lifetime. Guests must be at least 8 years of age. Perfect for adventurous families, couples, and solo travelers!
Visit Hike Maui or call (808) 879-5270 for more information.
5. Maui Luau Feast and Show
With many luaus on the island, you can pick the perfect experience for you and your guests, from intimate settings by the ocean to larger productions at resorts throughout the island. All Maui Luaus come with a show of hula dancing, history, and usually at least one fire dancer. This is a great way to experience some of Hawaii's most interesting culture, watch the sunset and spend a memorable night under the stars with family and friends.
6. Solve a Mystery
A riveting and highly entertaining activity for the whole family, head to Wailuku Town to experience Maui's new escape room thrill at Mystery Maui. Gather your savviest friends and family members for this clue-filled, unique live experience that will challenge you to solve one of two mysteries in 60 minutes or less in order to escape the room. This exciting activity is ideal for groups of 2 to 6 people and leaves plenty of time to enjoy the rest of your day on Maui. Reserve your mystery experience online or by calling (808) 249-2062.
7. Maui Zipline
With locations on the slopes of Haleakala, Kaanapali's West Maui Mountains, and over/through the Maui Tropical Plantation, ziplining is a fun way to experience the diverse landscapes and views of Maui.
8. Maui Cookie Lady
For a taste of whimsy— and island-inspired decadence— head to The Maui Cookie Lady in Makawao. This dreamy shop feels like a bakery you might stumble upon in a Bavarian fairytale or Middle Earth— the magic is tangible, and the cookies are downright delightful. In addition to The Maui Cookie Lady's signature cookies, a heap of other confections are on offer, from candied apples and lollipops to Maui-made caramels. This wondrous storefront is great for souvenir shopping or just treating the kids to a sweet. And if you missed out on The Maui Cookie Lady's epic cookies while on Maui, don't worry. Their online store is well-stocked and ready to ship just about anywhere!
9. Take a Photo Hike
Maui has no shortage of photo-worthy locations and landscapes which are worth exploring beyond the lens. Iao Valley, with its picturesque streams, lush greenery, and iconic Iao Needle, offers world-class photo opportunities for those with the right equipment. The guided Central Maui, Upcountry & Haleakala Tour is the ideal way to tour and learn more about this stunning area, as well as nearby hotspots like the Kepaniwai Gardens and Maui's favorite historic local towns. Even better – the tour includes round trip transportation, breakfast, and a scenic Upcountry picnic. 
10. Go House Shopping
Thinking of buying a property in paradise? Imagine waking up to this view! For the best local resource in real estate, contact one of the best Maui realtors by the region they specialize in.
11. Ocean Rafting
An affordable and exciting way to get out on the water is on Molokini snorkeling tours. These tours will take you out snorkeling as well as whale watching in season. One of our editors has been close enough to a humpback while rafting that he could touch its back.
12. Get Married
Maui is one of the easiest places in the Nation to get hitched. Our island has more weddings on it than anywhere else for good reason. Maui's beaches are perfect for small weddings.  It's pretty much always a good idea to get a wedding planner for a Maui wedding. Most people have small weddings on Maui in order to relieve stress and make life easier.  Having a planner makes it far less difficult to lock every detail down.
13.
Jump Up, Jump Up & Get Down
If you're seeking a family-friendly activity that will have your heart pumping in no time, the Wailuku-based Ultimate Air Trampoline Park is where it's at. With tons of trampoline jumping areas, a foam ball pit, and basketball hoops, there are plenty of ways to keep the keiki – and yourself – entertained at this 25,000-square-foot indoor activity center. Reserve your trampoline pass by the hour or get a full-day unlimited pass for $25 (as of 11/15/18). All jumpers can grab a pair of Ultimate Air socks onsite and head off for a day of fun out of the sun. Guests of all ages are welcome to join and are encouraged to book their spot online or by calling (808) 214-JUMP.
14. Bottom Fishing
Maui Bottom fishing can be done on any of the dozens of charter boats out of Maalaea Harbor or Lahaina Harbor. You'll find that Maui Fun Charters has the best vessels and the smallest group size.  They also have the best price for private charters as of this writing.  Maui's ocean has some beautiful warm water fish worth catching for your vacation BBQ!
15. Find Your Optimum Health and Wellness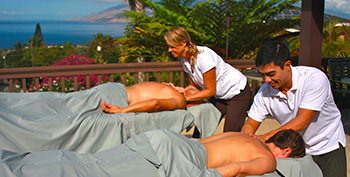 From Wailea and Kihei to Lahaina and Kapalua and everywhere in between, Maui's Best Massage comes to you!  You won't have to lift a finger or leave your room to get a 5-star massage from these expert therapists!  Pick from relaxation, deep tissue, or Lomi Lomi, and the aloha spirit will be yours for the taking in no time.  They also have a studio and spa in Kihei at 1993 South Kihei Rd, Suite 19.
Few things say wellness more than a trip to the spa. At Spa Montage Kapalua Bay, luxurious treatments coupled with facilities that highlight Maui's natural tropical landscape are designed to leave your mind, body, and soul feeling rejuvenated- and fit as a fiddle. Intent on restoring the harmony within, wellness is the name of the game at Spa Montage. Not only does their spa menu offer refreshing therapies like body polishes, facials, and massages, but the spa facilities also boast a private hydrotherapy oasis, movement studio for wellness classes, an outdoor co-ed infinity pool and a fitness center.
Health and wellness can also be found on HeleWai Eco-Tours' Honolua Ridgeline Hike: A Conservation Experience. Few things feel as good as getting outside—especially when the "great outdoors" are parts of the island that are untouched by development. Along this three-and-a-half-hour journey, you'll be offered incredible information about Maui's ecology, history, and culture—and supplied om-worthy views of the Upper West Side.
16. Bike Down the Volcano
Riding from the top of Haleakala down to the base of the volcano is incredible. You'll enjoy overwhelming views of all of Maui as well as the many sweet fragrances of the countryside while cruising downhill on a bike. Maui bike tours have become one of the most popular activities on the Island.
17. Take a Flying Lesson
Take a thrilling, hands-on flying lesson with Fly Maui. Here you will learn how to take off a Cessna, followed by a scenic flight around the island. Explore untrodden rainforests, peer into chasmic valleys, and uncover hidden waterfalls that pour into the sea. The stunning views from the pilot's seat are admittedly a little distracting but don't worry, a qualified Fly Maui instructor will be at your side at all times to take over if you'd like to snap a photo or two, or twenty… Call Fly Maui at (808) 280-3290.
18. Go Sailing
Maui Sailing is an easy and fun thing to do with the many large vessels on the island. Popular boats like Four Winds Maui and Trilogy Excursions will take you snorkeling, whale watching, or for a romantic sunset cocktail cruise.
Looking for something a little more private? Enjoy a sailing charter with Maui Custom Charters. With two boats to choose from each maxing out at 6 guests, you can customize your day on the water and enjoy the focused attention of the crew. Spend your day gliding across the water on the S/V Artemis, a 47ʻ Leopard sailing catamaran fully loaded with a kitchen, private quarters, and a vast trampoline on the boat's bow. S/V Nova is a 42ʻ Catalina MKII sailing yacht that brings outstanding luxury to your day at sea. Choose your adventure and do it your way with Maui Custom Charters.

19. Portraits
You're not likely going to find any better location to take a photo of your family and friends than on a beach in Maui. Get that perfect Christmas card photo of your kids, a fun beach shot of your friends, or a romantic photo of you and your significant other during a spectacular Maui Sunset.
20. Visit Glass Artists
Watching glassblowing is mesmerizing, especially when making island-inspired artwork.  See their large sculptures, beautiful bowls, and jewelry and get a chance to speak to the artists at Hot Island Glass in the heart of Makawao Town.

21. Visit the Lavender Farm
The lavender farm is a special place to visit. Lavender grows in Upcountry Maui, which gives off the most intoxicating scents! With over 55,000 lavender plants and 45 different varieties, Ali'i Kula Lavender is a great place to explore on Maui, among other Maui farm tours. Consider taking one of their Daily Guided Walking Tours, Guided Cart Tours, or enjoy a special gourmet picnic lunch. They also sell a great variety of lavender products, perfect for souvenirs from your trip to Maui!
22. Take a Helicopter Tour
Helicopter tours are easily one of the most memorable activities you can do while on Maui. Only so much of the Valley Isle can be explored by foot or car, and taking to the skies allows visitors to feast their eyes on untouched, inaccessible locales. Whether you're dreaming of soaring through emerald canyons in the West Maui Mountains, cruising past some of the tallest sea cliffs in the world on Molokai, or flying along the rim of Haleakala Crater, there is a myriad of excursions to choose from. Book a helicopter tour from the renowned Hawaii tour and travel agency Helicopter Tours. Call them at 808-460-8194.

23. Kapalua Coastal Walk
An easy and beautiful coastal hike in west Maui, this is worth traveling along for at least a section. Almost 2 miles one-way, you'll see some incredible bays, beaches, and epic resorts.  This is a great walk to make after eating at Cane and Canoe at the Montage.
24. Visit Lanai
On your next journey to paradise, why not get off the beaten path and head to Maui's lesser-known neighbor island of Lanai for an unforgettable snorkeling and boat experience. Depart from Lahaina Harbor on a spacious double-decker catamaran for a cruise across the 'Au'au channel – keeping an eye out for Hawaiian Spinner Dolphins, humpback whales, and Hawaiian Green Sea Turtles along the way – before arriving at the first of two scenic snorkeling areas. Enjoy the natural beauty of The Pineapple Isle on this half day tour, which includes a full buffet lunch, water slide, snorkel equipment, guided instruction, and more.
Visit Hawaii Ocean Project or call (808) 667-6165 for more information.
25. Whale Watching
By far, one of the best Maui activities to do is whale watching. This is only possible during the winter months due to humpback migration patterns. You can watch them from shore, but the best way is to take a Maui whale watch cruise and see them up close.
26. Learn How To Surf
Maui is the best island to learn how to surf. The South and West sides offer plenty of Maui surf schools and can guarantee you'll ride a wave on your first day. Feeling the power of the ocean carry you safely to shore is a remarkable experience that everyone should try.
27. Go Restaurant Hopping
Restaurant hopping is one of the best ways to taste test the best ono grinds on Maui! Some of our favorites include:
Learn more at Maui Dining for recommendations on everything from food trucks to fine dining restaurants.
28. Sunrise from Haleakala Crater
Watching the sunrise from the Haleakala Crater is breathtaking. You'll have to wake up early to get to the top, but it's more than worth it.  Haleakala National Park allows vehicle entry at sunrise by reservation only, so if you haven't booked a reservation weeks in advance, you'll need to go on a tour.  Many Haleakala tours offer visits to the summit, many of which combine other fun things to do on the way back down like biking, ziplining, wine tasting, farm tours, and more!
29. Visit Pearl Harbor
Who said one of the best activities on Maui included staying only on Maui? Why not add a second island to your itinerary with a day trip to Oahu! Choose from one of 4 guided or 2 self-guided tours around Hawaii's most popular island destination, Pearl Harbor, including a guided tour of the USS Arizona Memorial and USS Missouri Battleship, an Oahu helicopter tour, a full island driving tour around Oahu's most culturally significant and scenic areas, a private charter tour by jeep or SUV, and even more. All Pearl Harbor Tours include round-trip airfare from Maui to Oahu, as well as round-trip transportation once on the ground. This is one of the most exciting, efficient, and practical ways to extend the boundaries of your upcoming Hawaiian adventure.
30. Lanaʻi Snorkel Tour
From November to April, humpback whales cruise through Hawaiian waters, prompting hundreds of visitors and residents alike to take to the seas in hopes of catching a glimpse of these massive creatures. However, these part-time residents aren't the only mammals that call Hawaii's waters home. Huge pods of spinner dolphins can be seen throughout the islands, but one island they seem to like particularly is Lana'i. Island Star offers dolphin watch snorkel tours to the Pineapple Isle aboard their luxury sailing yacht. Not only will you snorkel several of Lana'i's thriving reefs, but you'll also spend some time watching for dolphins- and if you're lucky, your snorkeling sesh might even be infiltrated by these playful creatures.