The Best Kahului and Wailuku Activities
Central Maui typically gets passed over by visitors in favor of Maui's beachier areas- yet, therein lies the region's charm. An exploration of Kahului and Wailuku will uncover a different side of Maui, one with sleepy towns, native gardens, and a glimpse into everyday local life. Once characterized by a booming agriculture industry and bustling sugar plantations, Central Maui now serves as the residential and business hub of the island. However, the storied history remains, and in this region, you'll find museums, monuments, and even shops that celebrate Hawaii's past. Here are the top 10 things to do in Kahului and Wailuku.

1. Visit ʻIao Valley State Park and Kepaniwai Heritage Gardens (Wailuku).
Stretching up into the heart of the West Maui Mountains, the massive ʻIao Valley is Central Maui's most famous attraction, and rightfully so. This fabled valley was once the site of one of the most epic battles in Hawaii, led by King Kamehameha in an attempt to unite the Hawaiian Islands under one rule. However, the tumult that once consumed Iao is long gone, and today the valley is a place of utmost tranquility. Visitors flock to Iao Valley to take in the majesty of the precipitous valley walls, the uniquely sculpted Iao Needle and stroll the paved walkways that meander throughout the park.
While ʻIao Valley State Park gets the bulk of the attention, Kepaniwai Heritage Gardens, located just before the entrance to the state park, is yet another serene location that deserves mention. Kepaniwai Heritage Gardens honors the different cultures that have shaped Hawaii as we know it today. Here, you'll find memorial gardens and traditional dwellings from Japanese, Chinese, Filipino, Portuguese, and Hawaiian heritage.

2. Trek the lush Waiheʻe Ridge Trail.
Located a few minutes outside Wailuku, this four-mile out-and-back trail ascends 1,500 ft up a windward ridge in the lush West Maui Mountains. Although steep (and arduous, depending on your fitness level), hikers are rewarded with sweeping views of Haleakala, North Maui, the rainforested ridges of Waiheʻe Valley, and the two-tiered Makamakaole Falls. The trail travels through native shrubland and is often shrouded in clouds. For the best chance of stunning views into the interior of the West Maui Mountains, aim for an early morning start. You'll also want to avoid the trail if it's been raining, as it can become extremely muddy and slippery.
Mile Marker 6.9, Kahekili Hwy, Wailuku

3. Spend an afternoon ziplining, dining, and touring the grounds at Maui Tropical Plantation.
Set at the base of the pristine Waikapu Valley, the Maui Tropical Plantation essentially serves as a glimpse into the agriculture industry that once dominated Maui- with a few exciting twists that up the plantation's ante as a visitor destination. First and foremost, Maui Tropical Plantation is host to acres and acres of commercial crops like pineapples and mac nuts, as well as beautiful botanicals. The agricultural hub of Waikapu boasts a ton of history, and visitors can tour the property and learn about said history aboard a conspicuous lime green tram.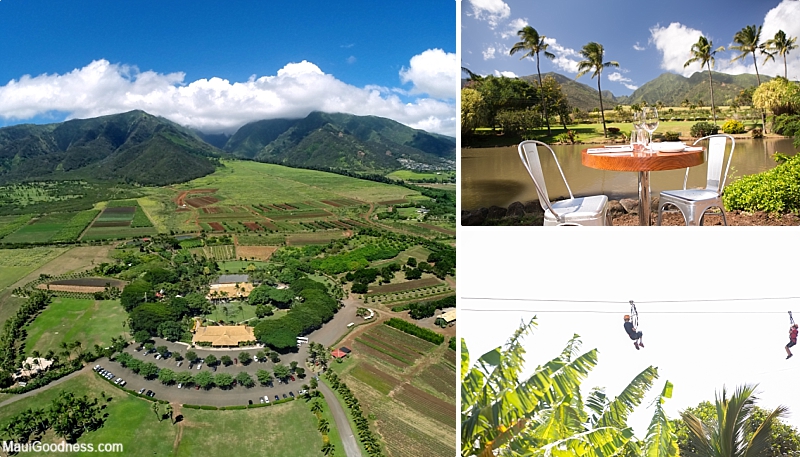 Seeing as tourism has since taken agriculture's top spot of the number one industry on Maui, the plantation has added some alluring upgrades. Visitors can now enjoy a five-line zipline course, the delectable onsite restaurant- Cafe O'lei at the Mill House, an ice cream bar, coffee shop, and gift shop. Of course, you will also find the Kumu Farms farm stand that sells fresh produce grown on the plantation. Learn more about the many different Maui ziplines available.
1670 Honoapiilani Hwy, Wailuku

4. Explore Wailuku Town.
Set back from the beach and mainly off the tourism radar, Wailuku Town is often overlooked as a destination in itself. However, Wailuku's main drag on Market Street is as quaint as they come. Here, you'll find locally-owned coffee shops, antique stores, thrift shops, and the oldest standing theater on Maui- Iao Theater, which opened in 1928. Stop by Request Music, an old-school record shop, and head to the basement to peruse the thousands of records in their collection. Or, if you're on the hunt for gifts or souvenirs, drop by Native Intelligence and Brown Eyed Bella. Both are Hawaiian-owned and feature Hawaiian-inspired apparel, jewelry, and other merchandise crafted by local artisans. The kitschy gift shops in Kaʻanapali don't hold a candle to the authentic souvenirs you'll find here.

5. Visit the Alexander and Baldwin Sugar Museum.
The booming sugar industry that ushered in Hawaii's plantation era shaped the islands' history. Immigrant workers from Asia, Portugal, and the Pacific settled in Hawaii to work on the plantations and turned Hawaii into the melting pot as we know it today. The Sugar Museum tells the story of these immigrants and their perseverance and showcases the history of Hawaii's sugar industry through a collection of artifacts, documents, and photos. The Alexander and Baldwin Sugar Museum is located next to the now-shuttered Puʻunene Sugar Mill. Although the area might seem desolate now, Puʻunene was once a bustling plantation town.
3957 Hansen Rd, Puunene, HI 96784

6. Learn about native plants at Maui Nui Botanical Gardens.
Situated on seven acres in Keopuolani Park in Kahului, Maui Nui Botanical Gardens boasts an impressive collection of ultra-rare native and Polynesian introduced plants. But before you go speeding off to the gardens in hopes of seeing vibrant blooming flowers like hibiscus and plumeria (not native plants, by the way), you should know that Maui Nui Botanical Gardens showcases plants and trees that established the basis for Hawaiian life in the islands. These plants were primarily used for food, medicine, construction, and tools. Instead of flashy visuals, the garden comes alive with the fascinating story of these plants- some are exceptionally rare, with only five wild populations left on earth.
Maui Nui Botanical Gardens gives visitors and residents a more introspective look at Hawaiian botany and highlights the incredible resourcefulness of the first Polynesian settlers. With ultra-friendly guides brimming with knowledge, a walking tour of the gardens will bring forth an appreciation for plants you never knew you had.
150 Kanaloa Ave, Kahului

7. Stop by the Maui Historical Society at the Bailey House Museum.
Constructed in the early 1800s by the first wave of missionaries to Hawaii, the Bailey House Museum has been perfectly preserved to represent the Hawaii of days passed. The Bailey House was initially erected as a mission house and today houses the most extensive public collection of Hawaiian artifacts in Maui County. Unique items from Hawaii's pre-contact era, missionary era, and plantation-era are on display here, as well as intriguing archeological and geological materials. The welcoming staff at the Maui Historical Society epitomize Aloha, and they are eager to share with visitors fascinating insight into the rich history of Maui. If you're at all interested in learning about the history of the Valley Isle, you'll be hard-pressed to find a more thorough and welcoming place to do so than at the Maui Historical Society.
2375 Main St. A, Wailuku

8. Take to the skies on a helicopter tour (Kahului).
Maui's main airport, OGG, sits smack dab in the middle of central Maui. The hub also serves as the jumping-off point for Maui helicopter tours that can whisk you to whimsical locales around Maui County. In the spirit of celebrating Central Maui, we recommend an excursion into the West Maui Mountains, where you'll find precipitous river valleys and emerald walls draped with silver waterfalls few have laid eyes on.

9. Take a windsurfing lesson at Kanaha Beach Park (Kahului).
The perfect combination of wind and waves on Maui has propelled the island to the top of the list of best windsurfing spots in the world. And the decided epicenter for wind sports on Maui is Kanaha Beach Park in Kahului, to which kiters, windsurfers, and new age wing foilers flock. A handful of windsurfing shops dot Amala Place, Kanaha's access road, and offer windsurfing lessons in one of Kanaha's mellow coves. Kite surfing lessons are also available if that's more your speed.

10. Peruse the Maui Swap Meet (Kahului).
Few other attractions in Central Maui have the ability to lure visitors and residents out of bed early on a Saturday morning. Maui Swap Meet sets up camp every Saturday morning from 7 am to 1 pm in the UH Maui College parking lot, just across from the Maui Arts and Cultural Center. Serving as a Maui institution since 1981, the Maui Swap Meet is a one-stop shop for locally made gifts, produce, tropical bouquets, artwork- you name it. The weekly gathering is known to have some of the best bargains on Maui.
310 W Kaʻahumanu Ave, Kahului