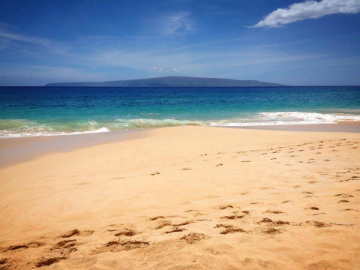 If the day of your dreams exists on a wide expanse of blue ocean, surrounded by the sounds of rolling waves and breezy palm trees, sipping fresh fruit juice lazily in the sand while sea turtles pop their head up to say aloha, Maui is your dream come true. 
Though it's not difficult to create your perfect ocean day on the Valley Isle, we're here to offer some pro tips for those looking to take their next vacation to the next level. Enjoy, and happy adventuring! 
Maui: The Perfect Ocean Day
Step #1: Get Your Gear
No perfect day begins without a little preparation, which means you're going to need some essentials for a full day of ocean fun. We recommend: 
Reef-Safe Sunscreen
Rent Snorkel Gear – Mask, Snorkel, Fins & Carrying Bag. For the best results, reserve your snorkel gear ahead of time for free online with Boss Frog's, and pick it up from one of their several convenient locations once you arrive on Maui. Call 808.856.4264!
Hat/Umbrella/Protective Clothing – The sun is no joke! Be sure to cover up if you want to avoid a full day of aloe, pain and regret the day after. 
Floatation Device – For those who aren't comfortable in the water, we recommend using a life jacket or noodle while you swim or snorkel. 
Step #2: Scout Your Spots
Though Maui is simple and quick to navigate, you don't want to miss out on some of the best swimming and snorkeling near your accommodation because someone told you otherwise. Check out this excellent guide to the 25 Best Maui Snorkeling Spots, and choose one that's appropriate for your level of experience, location and what you'd like to see. Some of our favorites include: 
South Maui – Charley Young Beach (swimming and snorkeling), Kama'ole Beach Park III (swimming and snorkeling), Wailea Beach (swimming and snorkeling), 5 Caves (snorkeling), Big Beach (swimming, but watch the shore break!)
West Maui – Honolua Bay (snorkeling), Kapalua Bay (swimming and snorkeling), Napili Bay (swimming and snorkeling), Ka'anapali Beach (swimming and snorkeling), Olowalu (snorkeling)
North Maui – Baldwin Beach (swimming and snorkeling – best in summer months)
East Maui – Very dependent on conditions the day you're visiting, but we love Wai'anapanapa State Park (aka Black Sand Beach – swimming), Hamoa Beach (swimming and snorkeling)
Step #3: Enjoy a Morning Snorkel
It's finally time to hit the water! Since wind tends to pick up in afternoon hours, we recommend going out for a snorkel in the morning, as you're more likely to enjoy calm conditions and less of a crowd. Keep an eye out for some of the most common marine species, including Hawaiian Green Sea Turtles, humuhumunukunukuapua'a, triggerfish, goatfish, needlefish, parrotfish, unicornfish, eels, octopus, and more! 
For those who aren't comfortable going out on their own, or would prefer to join a guided snorkeling tour from a boat, there are plenty of great options to choose from, like Quicksilver's morning snorkel tour to Molokini Crater and Turtle Town.  
Step #4: Ono Grinds with a View
What's more perfect after an epic ocean adventure than enjoying a delicious lunch with an ocean view?! We recommend:
South Maui – Taqueria Cruz (eat at the picnic tables at Kama'ole Beach II), Ferraro's at the Four Seasons Wailea, Five Palms in South Kihei
West Maui – Frida's Beach House, Aloha Mixed Plate, The Sea House
North Maui – Kuau Store (eat at Ho'okipa Beach Park and watch the surfers!), Mama's Fish House
Central Maui – I know it's not on the ocean, but another great waterfront view is at the Mill House Restaurant at the Maui Tropical Plantation.   See the photo below. 
Step #5: Afternoon Beach Hopping
It's time to work off that lunch with a little beach hopping and plenty of swimming. For those travelers who are feeling extra adventurous, rent a surfboard and hit the waves! For those looking to relax in the sunshine and enjoy a dip in the gorgeous water, we recommend the following beach-hopping routes (can be reversed depending on which direction you're starting from): 
South Maui – Charley Young -> Keawakapu Beach -> Po'olenalena Beach -> Big Beach -> Secret Beach
West Maui – Launiupoko Beach -> Ka'anapali Beach (cliff jumping at Black Rock!) -> Kapalua Bay -> D.T. Flemings Beach Park 
Step #6: Pau Hana & Sunset
Hang in there, the day's not over yet! It's time to take a break from the water and treat yourself to a well-deserved Maui cocktail. Some of our favorite places to watch the sunset and enjoy a scenic pau hana are the rooftop at Fleetwood's on Front Street in Lahaina, as well as Monkeypod Kitchen's outdoor lanai in Wailea, though you won't be at a loss to find a great view just about anywhere!
Mahalo for reading our guide to the best ocean adventure day on Maui! We hope you make the most of your time in paradise and can come back again soon. Aloha!
All photography was either taken by Hawaii Web Group staff, from owners that have given us written permission, and/or purchased for use. We have all the rights necessary to use these images on our website, and we require those interested in using our images to contact us for permission first.