It's a place you wouldn't necessarily think of seeing on a tropical island.
Rolling green pastures for miles and miles sprinkled with an occasional patchwork of small forests rising into the clouds.  From this elevation on the mountainside you can see the glistening rooftops of one of Maui's most spectacular resort studded coastlines – Wailea.  On these slopes at around 3,000 ft elevation is an area whose history dates backs close to 200 years – what is today known as Ulupalakua Ranch.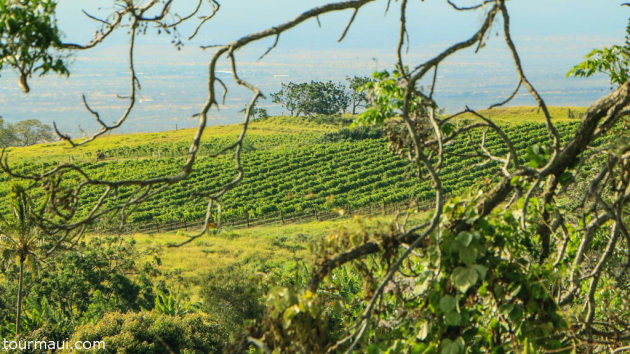 The last King of Hawaii, David Kalakaua, revitalized the Hawaiian culture in 1874 when he lifted the 40 year kapu (restrictions) on dancing the Hula by Queen Ka'aumanu when she converted to christianity in 1830..  Thus the kanaka maoli (native Hawaiians) gave him the title "Merry Monarch".  Today Hawaii celebrates his legacy in April with a festival and competition of Hula on the Big Island of Hawaii.  The Merry Monarch Festival is attended by competitors throughout the islands and from as far away as Japan and Europe. It is the worlds largest celebration of the Hawaiian culture.
King Kalakaua loved visiting Maui.  The King's ship would anchor off of Maui's southern Makena Landing which is visible from todays Ulupalakua Ranch.  Back in the 1870's it was known as Rose Ranch which was then owned by former whaling captain James Makee.  Makee would fire a canon to announce the arrival of the King to Maui. That same canon can be seen on the grounds today. In fact the tasting room of Maui Wine is located in what was King Kalakaua's guest cottage and there is a wonderful historic display of his time here. It is said the unforgettable parties that would take place 150 years ago at the ranch during King Kalakaua's visits would last until the wee hours with much dancing, drinking, gambling and Hula.  In front of this guest cottage a circle of cypress trees were planted to honor the King and this circle of — trees saw many performances of the Hula dancing that he so loved.
In 2012 Paka'a (Hawaiian God of wind) felled two of these trees to reveal interior rot.  With heavy heart it was decided the trees must come down.  Luckily the Maui Wine tapped into Maui's artistic community and found master sculptor Tim Garcia.  The felled tree stumps were sculpted and transformed into an amazing interpretation of hula dancers from these 150 year old trees. Today's "Hula Circle" stands as a tribute to the King's legacy and the Hawaiian cultural history of Maui.
This area of Maui has long been an agricultural powerhouse on the island.  Ancient Hawaiians cultivated sweet potatoes and dry land Taro and the remnants of stone terracing can still be seen today. James Makee made a good living supplying potatoes and corn that helped feed the California gold rush.  The rich agricultural history of this Maui ranch continues today with Maui Wine.
Since 1974 Maui Wine has been growing wine grapes on the slopes overlooking south Kihei.  In the early days while awaiting their first grape harvest they experimented with locally available fruit.  Pineapple was plentiful and a subsequent sparkling wine was produced to much fan fare.  By 1977 Maui Blanc pineapple wine was released for sale throughout Hawaii.  After years of hard work the wineries first grape wine, the sparkling Maui Brut, was release and the tradition of winemaking was born in Hawaii.  As the states only winery it took years of hard work to grow wine grapes in the tropics.  The rows of vines that contain various kinds of grapes (syrah, chenin blanc, chardonnay, malbec and viognier) can be seen along the way to Ulupalakua Ranch.  Situated on the slopes of Haleakala at around the 1800 ft elevation level the vines are in a perfect microclimate for these types of grapes.  Although their pineapple wine (Maui Blanc) is available throughout the islands including some mainland areas many of the wineries best wines are of limited release and can only be tasted and bought at the winery. Unlike the wine meccas of Sonoma or Napa Valley the first 3 tastings are free and they can ship to states that allow it.  We highly recommend the estate grown Plantation Red – if it is available that is!  This is a very popular wine…
Valley Isle Excursions no longer provides this stop on their tours, however that shouldn't deter you from experiencing it!  Whether you decide to drive upcountry to experience the stunning scenery on your own or travel all the way around the island on the road to Hana you will not be disappointed to spend some time at this magnificent property.  The wine is delightful and you may even be inspired to do a little hula in the Hula circle!  Enjoy!
Aloha Nui Loa
Valley Isle Excursions