Ever heard the phrase 'Maui is for Lovers'? Yeah well, so has everyone else. Valentine's Day is the busiest day on Maui, and because it also coincides with the peak of whale season, is also one of the busiest months of the year. While there are a thousand romantic things to do on Maui (just look outside!), we have come up with a few ways to spend the perfect day with your loved one in paradise.
Valentine's Day on Maui
Helicopter Tour
Nothing's sexier than a pair of earmuffs, am I right?! We kid. Helicopter tours are actually one of the best ways to see the island, and the views will leave you with a new appreciation of the true beauty of the island(s). Many Maui helicopter tours offer one of our favorite tours of West Maui and the neighbor island of Molokai, home to the steepest sea cliffs in the world and Hawaii's tallest waterfall. Learn about the historical significance of the West Maui Mountains, and enjoy views that literally couldn't look more picture-perfect if they tried. Why shout "I Love You" from a rooftop when you can do it in a helicopter – it's 2015, and romance has evolved. 
Romantic Beach Picnic
There are many, many restaurants to have a romantic oceanfront meal on Maui – Mama's Fish House, Mala Ocean Tavern, you name it. But if you're looking to have a more intimate (and likely less expensive) experience, consider hosting your very own romantic beach picnic. All you need is a couple of towels, some semi-fancy to-go food that's fairly easy to eat when surrounded by billions of grains of sand – think fresh ahi poke from Eskimo Candy, crepes from Cafe des Amis, noodles from Maui Thai Bistro – a candle or two and a conspicuously-cupped bottle of bubbly. Grab a spot on one of Maui's best beaches and watch a glorious Maui sunset.
Spa Day Getaway
Voted the #1 Resort Spa in Hawaii by Conde Nast, the Spa at Travaasa Hana is one of the most luxurious experiences on Maui. Nestled in the remote town of Hana on Maui's eastern coast, Travaasa is a beautiful resort that boasts some of the best, and most authentic, Hawaiian spa treatments you can find, including Hawaiian Lomi Lomi Massage, Ho'ala "To Arise" Refining Clay Body Wrap, Hana Remineralizing Facial, and Hana Couple's Escape Spa Package, which includes a saltwater foot soak, clay foot mask, full body massage and scalp treatment for you and your partner. For the best results, treat yourselves to a night (or more) at the resort, which sits on Hana Bay only a short walk or drive to many of the best sites along the Road to Hana.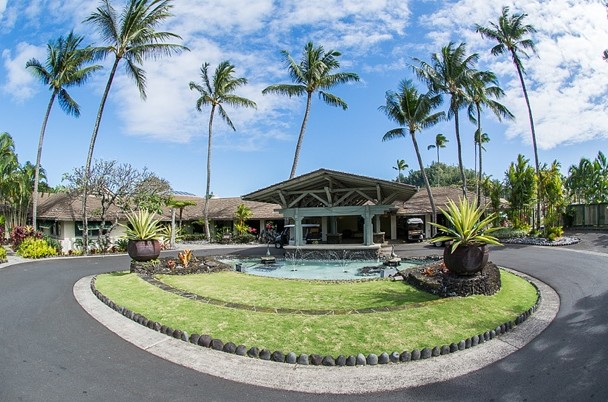 Sea of Love Dinner
Remember those romantic meals we mentioned earlier? Well, this goes a step further. Located in a semi-private setting around the Maui Ocean Center's most stunning underwater exhibits, the annual Sea of Love Valentine's Dinner is a unique, delicious and memorable experience. James Beard nominated Chef Henry Tariga partners with Seascape Maalaea to offer guests an intimate, four-course meal in a beautiful aquarium setting. Tickets include a lei for the ladies, champagne welcome, seafood platter, nicoise salad, choice of entree and strawberry dessert. Call the Maui Ocean Center directly to reserve a table.
Sunset Cruise
Departing directly from the beach in front of Makena Beach & Golf Resort, Kai Kanani offers an excellent Valentine's Day Sunset Cruise, including a variety of delicious pupus, premium cocktails, live music, and stunning views of South Maui's shoreline. Since this is also one of the best times of year for whale watching, you're also pretty much guaranteed to enjoy some excellent whale sightings on your cruise. The warm evening air, sunset views from the water and beach take-off point really make this cruise one of the most romantic options, and the service from the Kai Kanani staff is always superbly friendly. Call early to book, as spots for this event will likely fill up quickly.
If all else fails, remember that you're on Maui, and just about everything is romantic. We hope you have a great Valley Isle Valentine's Day, and as always, mahalo for reading!