We know who you are.  You're the one with your socks and shoes on at the beach.  Your arms are crossed and your face says it all.  You don't want to be here.  You may have come to Maui for your spouse or for a work trip.  But you don't want to get sand between your toes and ocean water in your ears.  Believe it or not, we may be able to convince you to fall in love with Maui!  Our beaches are stunning, but there's another side of this island that we will clue you in to.  We promise, no sand in the socks.
We've yet to meet anyone that didn't find glassblowing fascinating.  Visit this beautiful shop in the heart of our little Upcountry cowboy town of  Makawao, and it'll be a highlight for your trip.  You don't have to love beinthe beach to love the many ocean-inspired pieces they've created.
Tour through working fields at the Maui Tropical Plantation with stories of Maui's past as well as demonstrations like live coconut husking. With 7 tours everyday, you can experience the REAL Maui in between ziplining and having lunch at the Mill House Restaurant.
You may have been to a rodeo or two in your day, but this rodeo isn't the usual show.  For the last 60 years, our paniolos (Hawaiian cowboys) have celebrated the 4th of July by wrangling cattle and riding broncos bareback.  The celebratory parade is fun for all, and you finally can check "Hawaiian Rodeo" off your bucket list.
  These masters of Hawaiian music will have you swaying in your seat!  The concert series recordings have won 3 Grammys, but you'd never guess from their casual ambience.  You will be treated to a hula show, sensational music and cultural storytelling.  The few hours spent here will most likely be a favorite, regardless of your affinity for the beach.
  If you packed a pair of jeans on this trip, you have now found their purpose!  Horseback riding along the mountainside at sunset will take your breath away.  These lovingly kept horses are led by knowledgable guides that make sure your experience is above par.  And you go nowhere near the water's edge, which will make both you and your horse happy.
While others are spending the day beachside, you can spend the day above it all in Kula.  Yasko Lagneron opens up her private home to guests where she shares her homestyle cooking secrets with you, picking the menu that suits your palate.  You will spend the day chopping and dicing organic local produce, being entertained by her delightful storytelling.  You will sit down to enjoy your well-earned meal at her dining room table in her sunroom overlooking the expansive ocean view.  This 6 hour event will not only be well spent, you will have left-overs to use as bragging rights.
If you consider yourself a morning person – or can fake it for a day – a guided tour to the 10,000 foot summit of Haleakala Volcano, meaning 'House of the Sun,' is an activity that will leave even the most skeptical in awe. After being picked up directly from your hotel or condo between 2 and 3am, you'll be transported through the dark winding hills of Upcountry to reach Haleakala National Park and watch the sunrise from above the cloud line. Experienced guides provide an in depth look at the flora, fauna and cultural highlights of the area, and you will enjoy a hot breakfast at the historic Kula Lodge before being returned back to your accommodation. If you had any doubts before, watching the sunrise from the summit of a volcano is one hell of a way to boost your experiences on Maui.
Why not support this environmentally conscious company while sipping their organic sugar cane distilled vodka?  Stroll along their pesticide-free grounds and admire the solar panels used to power 100% of their operations.  Make your way over to their "Martini Garden", where you will find organic treats such as lilikoi and lavender.  Stick around for the lunch and vodka sampling, and you'll end this tour with a newfound respect for the "Ocean".
While you may not be a fan of sandy toes, it's hard to deny the breathtaking beauty of the aqua waters and sugary white beaches.  Now you can have your cake and eat it too!  Why not float over the Pacific Ocean in a quiet-technology EcoStar helicopter?  You can get an aerial view of whales breaching or hidden valleys without leaving the comfort of your first-class seat.  You can pick from their extensive tour packages, and decide if you feel like peering over Hawaii's tallest waterfall or glimpsing at the rugged coastline.  Feel like seeing it all?  Of course they have a tour for that as well.  Celebrity service with a smile!
If your parents ever told you your pet went to live on a farm, this is the farm you'd hope they found themselves on!  Those with a heart for four-legged friends will be in hog heaven here!  This 8-acre utopia is home to goats, rabbits, donkeys, cats, peahens, pigs, ducks, deer and chickens.  The goal of the Leilani Farm is to compassionately shelter and care for previously abused or mistreated animals.  And one look at that joyful bunch will convince you that they're doing a fantastic job!  Add a few bunny kisses and goat cuddles, and you've created a very special non-beach memory.
While walking through this open air house built in 1917, you will be opened to aspects of cultural awareness through different mediums and themes.  Art isn't the only thing to inspire you, as you look out amongst their magnificent views of Haleakala, West Maui Mountains and Maui's North Shore.  In their own words, "We truly believe that art has the power to improve individuals, our community and our future."  Go to be inspired and leave with a little bit of Hawaiian culture and art tucked into your experience of Maui.
 If you haven't had a chance to see the worlds largest Buddha in Japan, then why not settle for the second-largest Buddha at this Buddhist temple?  Amidst serene and peaceful gardens, this temple is a tranquil stop.  And if you've brought along a few beach lovers, let them explore the pristine beach next door while you meditate.  If you happen upon this temple around 8:00 pm, stick around for the 3,000 pound bell ringing, which is to remind followers of the places to seek guidance and commitment to the eightfold path.
Join the locals and enjoy our Friday town parties!  These celebrations showcase our history and culture while plying you with delicious food and festive music.  Local art will visually stimulate you as you walk along the streets lined with unique purveyors.  You can find your dinner, entertainment and going home gifts all in one place!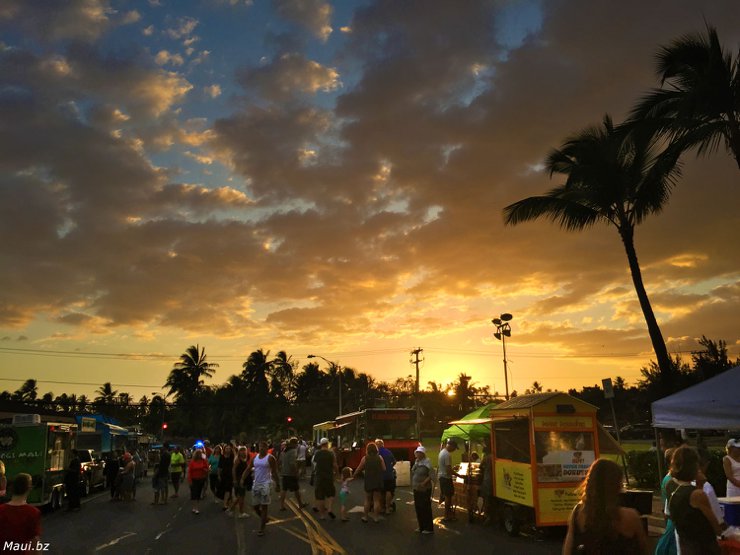 If you've found yourself in the lush vegetation of Hana, then you've also discovered the lack of options for where to eat.  Do not be deterred by their green food tent placed in front of the health clinic.  Fresh eggs and savory potatoes top their breakfast fare and they have espresso and lattes for those who need a little help waking up (you'll be hard-pressed to find good coffee up here!).  Homemade granola and fresh local fruit are a must to accompany your healthy and delicious local fruit smoothie.  And lunch is equally as star-studded!  Using crisp local greens and organic chicken for the Chicken Orzo makes their lovingly prepared meals all the more enjoyed.
No sand or sea in your britches with this list!  You are now able to tell others you love Maui without ever setting foot on the beach!