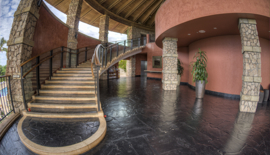 Hotel Wailea is one of the few places in South Maui that isn't overhyped, but we have a feeling that's about to change. Situated 300 feet above the ocean with panoramic views of Molokini Crater, Kaho'olawe, Lana'i and West Maui Mountains, Hotel Wailea offers a sweet escape from the hustle and bustle of huge corporate resorts withthe same level of attention and top-notch amenities.  
Design Inspiration
Originally designed as a private Japanese club, the architect of the hotel spent many days in the area before deciding to turn the space into what is now the intimate, calming and aesthetically stunning Hotel Wailea. Set on 15 acres with only 72 rooms, a day on the property, even at full capacity, feels like your own private adult playground. The sound of rushing waterfalls and streams paired with the calming atmosphere and landscaped beauty is enough to make you want to curl up in a robe and sip cocktails on your lanai till the sun goes down. 
But this is Maui, and we always recommend exploring the island, even if the best part is returning here at the end of the day.
In 2008, Hotel Wailea changed ownership and underwent a 15 million dollar renovation; it shows. Upon first entrance, the lobby architecture is inspired by the shape and design of a Geisha's parasol, one of many Japanese architectural touches found throughout the property. 
Grand Anuhea Room 
A quick walk down to the lower level leads guests in one of two directions – the pool or the Grand Anuhea room, meaning "cool, soft fragrance; mountain breeze".
Here, guests can enjoy complimentary Waterfall Yoga Classes on Tuesday, Thursday, Friday and Saturday mornings. What a great way to start your day! The bright and airy windows and view of the cascading waterfall are the perfect compliment to the dark wood and stone walls.
Poolside Luxury
Voted Wailea's "Most Romantic Resort" by TripAdvisor, a short stroll through the newly renovated pool area explains why they hit the nail on the head. While the pool may look somewhat simple compared to the slide-adorned, volleyball-netted, chlorinated funhouses found down the hill in most of the larger resorts, the charm of this pool is definitely its calm, sophisticated, romantic air of relaxation, one of the most popular reasons to travel to Maui in the first place. If you crave the excitement of pool-time chaos, look elsewhere. Grab a comfy seat in one of the beautiful new pool cabanas, take a dip in the hot tub, enjoy a complimentary poolside yoga class, watch live music on the cozy poolside stage, order a meal and don't miss our new favorite South Maui attraction – the bar. 
Beautifully designed and expertly staffed, this poolside bar offer none of the same pre-made, pre-mixed, fabricated fruit cocktails that mixologists love to hate. Instead, all cocktails are handmade using only local, fresh ingredients. Imagine that! On an island where exotic fruit grows like weeds, a bar with quality cocktails and fresh ingredients is actually harder to come by than you may think. In addition to the carbonated coconut water and kombucha on tap, we recommend one (or several) of the excellent cocktails offered on the signature drink menu. Ask about upcoming mixology classes to learn valuable cocktail-prep skills you can take home with you. It's really the best souvenir. 
Suites
Each of the 72 renovated rooms on the property are designed as modern one bedroom suites, the perfect setting for a couple's getaway or intimate solo travel. Each building is composed of four individual suites, two on top and two on the ground level, creating a cozy atmosphere that's more like staying in a luxurious residential condo than a hotel room. 
While all rooms are ocean-facing, guests can choose from suites with a Garden View, Partial Ocean View, Ocean View and Panoramic View based on their preference. Each 720 square foot suite includes a deep soaking tub with fossilized coral bathroom walls, open-air shower, Molton Brown bathroom amenities (that smell like heaven), central A/C, European white-washed oak floors, complimentary high speed wifi, two 40 inch LCD TVs, custom Hawaiian Ohia wood cabinets, electronic safe, private furnished lanai, living area with double-sized sofa bed, modern kitchenette with microwave, Subzero freezer and refrigerator and are available for a maximum of three guests. 
The sophisticated yet inviting decor may not be what you think of when you picture 'typical' Hawaii, but it's definitely more authentic. If there's ever a place to take it all off and revel in your own private paradise, this is it.
Onsite Dining
Local. Seasonal. Fresh. These are all words that ring true in the ear of foodies from across the globe, and one that Hotel Wailea is fiercely committed to practicing. Capische?, the onsite restaurant and winner of awards like "Most Romantic Restaurant" and 2014 Wine Spectator Award of Excellence, offers a delicious assortment of fine Italian-American fare, some of which is sourced directly from the hotel's onsite garden, Wailea Organics. Through Executive Chef Brian Etheredge's collaboration and partnership with several local growers and producers, each guest is offered a true taste of Maui. Request a table in The Garden for a truly romantic experience or grab a gourmet picnic meal to-go for a private beach meal with a view. 
If you prefer dinner with a cocktail and a boat (who doesn't?), hop aboard a special Capische-catered Kai Kanani Sunset Cruise from the shores of South Maui, which includes live music, open bar and a stunning view of the Maui sunset. 
Massage Treatments
If you come to Maui and forget to relax, that is a sad thing indeed. Treat yourself to a day of total body bliss and book an in-room massage treatment or outdoor massage in the onsite streamside gazebo. Options include Therapeutic Massages, Specialty Massages and more traditional massages like the Hawaiian Lomilomi or European. We've even heard rumors that a special Treehouse Spa is in the works, complete with stone baths and an ocean view. Yes please! 
Should you choose to skip the massage treatment, make sure to take up residence in the onsite hammock for a well-deserved afternoon nap. 
Property Extras
Hotel Wailea has no shortage of extras to ensure guests are well-equipped for happiness, including complimentary shuttles around Wailea, complimentary valet services, laundry services, room service, complimentary Hawaiian Outrigger Canoe tours on Wednesday mornings at Wailea Beach, preferred tee times and rates at Wailea's Gold, Emerald and Blue Golf Courses and exclusive access to the Hotel Wailea Beach Club, which includes complimentary water, lounge chairs and umbrellas at nearby Wailea Beach. 
Planning your upcoming nuptials or vow renewals? Hotel Wailea offers several location options for special events with panoramic ocean views, the ideal location to celebrate with friends and family and ultimately make people back home extremely jealous. They even offer an in-house event planning company, Maui Wedding Company, to help make the process that much easier.  See a recent Hotel Wailea Wedding.
Mahalo to Hotel Wailea for the excellent tour! We will definitely see you at the pool bar again soon and are waiting patiently for our invitation to the Treehouse Spa… hint hint. 
For more information or to book a room, please contact Hotel Wailea at 1.866.970.4167.
Photos provided by Peter Rimkus and Natalie Brown.